An Inside Look at Tahoe with Christine Johannes
December 03, 2012
Get to know us, and get to know Tahoe. 'Inside Look', is part of a series where locals share the very best of the place they call home. Meet Christine, she's one of the friendly faces in Lodging Guest Services at Constellation Residences at Northstar. What does she love most about her job? Getting to know so many different people!
Meet Christine, she works in Lodging Guest Services at Constellation Residences at Northstar, and her favorite part of her job is getting to know so many different people. Originally from Boulder, CO, Christine returned to California for the last 6 years and now resides in Tahoe, a place she can "spend all day outside with the best people - paddle board all morning and hike all afternoon, lay on the beach during the day and ski all afternoon. "
ConstellationNS: What made you select Tahoe as home?
Christine: What drew me to Tahoe originally was the mountains and easy access to outdoor activities. Every day is a beautiful day in Tahoe and there is never a reason to stay inside for too long.
ConstellationNS: What's your favorite local place for breakfast/brunch, and what would you recommend?
Christine: My favorite breakfast spot is Fire Sign Café. I have never eaten a dish there that I didn't love. The smoked salmon benedict is amazing and is made with house smoked salmon.
ConstellationNS: What's your favorite farmers market to spend an afternoon?
Christine: The Farmer's Market in Tahoe City is my favorite place to shop for groceries in the summer. The market is located right on the lake so you can enjoy the views while you shop. All of the local produce is amazing, my favorite are the white peaches from Twin Peaks farms.
Constellation NS: You clearly love the outdoors. Can you share your favorite activity – something for others to experience.
Christine: My favorite outdoor activity in Tahoe is paddle boarding. Paddle boarding is absolutely the best way to see the lake, I recommend everyone try it at least once. There is a peace and calm when you are standing out on the lake that is indescribable.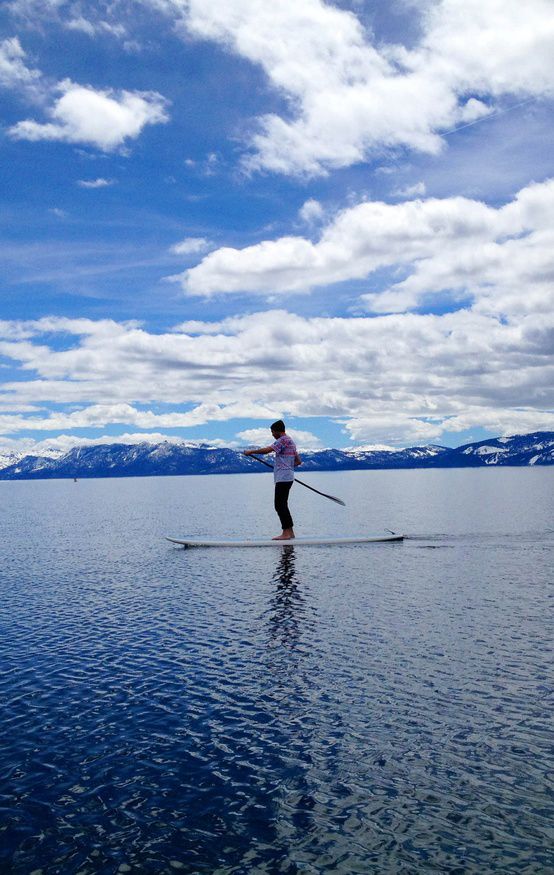 paddleboard image credit - Joshua Tetreault
Constellation NS: We know you are a huge fan of Cake Tahoe cupcakes, and you were right on track with your recommendation of pumpkin spice with homemade pumpkin seed brittle on top…but next time you happen to drop-by (ehem or travel just down the hill to Truckee) be sure to taste test the banana pudding cupcake! YES. It is just as amazingly delicious.
Now Selling Whole Ownership Residences
When you're ready for the perfect blend of luxury and adventure, this is the place. Beautifully appointed. Fully furnished. Directly attached to The Ritz-Carlton, Lake Tahoe resort with access to world class amenities: spa, pools, fitness, fine dining and more. And, just an open door away from slopes, lifts and gondola for ultimate ski-in/ski-out living.
Sales Gallery Open Daily 9-6 13051 Ritz-Carlton Highlands Dr. Truckee, California 96161 530.582.6077 Info@ConstellationAtNorthstar.com
Get social with us! Join Constellation Residences on Facebook and Twitter.
Stay a while. There's no better way to sample full ownership.
Did you know? Constellation Residences offers lodging, as a mid-mountain vacation destination. To inquire about lodging rates and availability please use the booking widget on the right of our website, or contact us at lodging@constellationatnorthstar.com or 530-214-0660. For special lodging packages and rates, click here.